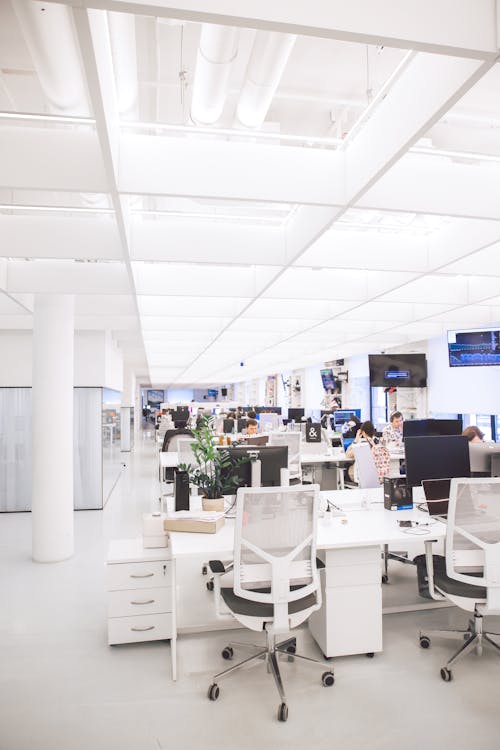 Bacteria are living cells that can live off or on a body without requiring a living host. However, viruses are non-living molecules requiring a living host to survive. There may be good bacteria, but there is nothing like good viruses. Both are invisible and, therefore, nearly impossible to look out for and protect yourself and others from them.
The sharing of office spaces makes them prone to bacteria and viruses. It is, therefore, necessary to do regular cleaning to avoid diseases from bacteria and viruses. Your employees can then rest assured that their space is clean. It improves job productivity as they feel safe. Clean spaces also make customers feel at ease and return to your office regularly.
The best cleaning services are by commercial companies when it comes to cleaning. They are professional and can handle the large-scale office cleaning and house cleaning.
Commercial Cleaning Services
The cleaning industry comprises different kinds of cleaning services. There are residential and commercial cleaning services. Residential cleaning services deal with houses. A house cleaner will come over and clean your house. They are becoming more and more popular as people work from the house. If you prefer these services, they will create a clean and sanitary environment in your home.
Commercial cleaning services are services that a company offers to another company or business to help them function. Your office is the hub of your transactions and discussions. It is where your employees and customers interact. Therefore, you must make sure that it is clean and sanitary at all times.
To maintain the highest standards of cleanliness, you will need to employ commercial cleaning services to serve you. Commercial cleaning companies have a variety of cleaning techniques they use. They also own cleaning supplies that can maintain your office space.
If you need commercial cleaning services in Boca, shop around. Get to know a few details about the businesses offering this service. That way, you will ensure that you get quality service that will draw customers to your business.
Benefits Of Hiring Commercial Cleaning Services
You can choose to hire staff to do your office cleaning or hire commercial cleaning services in Boca Raton. The latter's beauty is that they are more affordable in the long run since they are professionals. They will save you time, cleaning tools expenses, insurance, and reliability.
If you have an owner-operated business in Boca Raton, FL, let your staff focus on their job. Hiring professional cleaners will help them do this and be more productive. A cleaning company will arrive at the premises when they are to do so. They will provide the cleaning service and perform all the tasks on their contract. They will also come with their cleaning supplies. That means you do not have to spend money on these.
A good cleaning company is fully insured to use their supplies and equipment and work on your premises. They have professionally trained staff who know what they are doing and how to use their cleaning products. In case of anything, the company will cover the expenses. It will eventually save you the cost of insurance, buying your supplies, and also the cost of training.
Simple And Effective Commercial Office Cleaning Services
The scope of commercial cleaning services includes regular and deep cleaning. Regular cleaning involves day-to-day office cleaning services. The tasks include cleaning bathrooms, dining, and kitchen areas. It also consists in wiping furniture, floors, surfaces, and window cleaning.
Deep cleaning is a systematic process that depends on office space usage. It can be bi-weekly, bi-monthly, or twice a year. It requires an intense level of cleaning to maintain a healthy and productive office environment. The targets of deep office cleaning include washing and vacuuming floors, appliances, and light fixtures.
So how do commercial cleaning companies ensure they are using the best techniques and there is customer satisfaction?
Maintaining A Cleaning Schedule
They will work on a cleaning schedule which they will keep to. The schedule will outline who will be doing which tasks when. It ensures things do not fall through the cracks. Especially during holidays when most of your staff are not around.
A cleaning company will keep an eye out for your hygiene and get rid of germs. They will ensure that you find a clean, healthy environment when you get back to work.
Thorough Carpet Cleaning
When people walk around and wipe their shoes on the carpet, it creates an environment for harmful bacteria and viruses. Your carpets need cleaning at least bi-weekly. Your commercial cleaner will mostly deep clean carpets over the weekend when staff and clients are not around.
It involves the injection of carpet cleaner solution into the carpet and steam cleaning. Then there is the extraction of the solution along with dirt and debris. The water and steam effectively disinfect and loosen soil, oil, and grease deposits in the carpet fibers. It ensures that your facility is sparkling when you return to work, providing superior protection against bacteria and viruses.
Following A Green Policy
A green policy means that you make sure that you use bio-degradable cleaning products and solutions. Although many believe that these are not effective as chemical-based products, this is a myth.
A solution like vinegar, baking soda, and water cleans and kills germs effectively. Most of the leading businesses in Boca Raton and Lake Worth use these non-toxic methods. They ensure you have a safe environment in your facility to work in and in the house.
Chemical-based products can make the air and environment in your facility harmful and toxic as time goes by. Vet the products your cleaning service provider uses for disinfection to keep your employees safe. It also ensures you get the best services.
Using The Latest Cleaning Equipment
Cleaning service business with serious professionals will keep up to date on the latest techniques and equipment. It is important to ensure that they can serve you efficiently and meet your individual needs.
Good quality cleaning technologies will make life easier. It will also ensure that the cleaning service company can do deep and professional cleaning on your property. It will also keep the environment on your property safe and sound.
Commercial Cleaning Services Near Me
Several Boca Raton companies offer cleaning services. However, consider Sawgrass Cleaning Solutions Services if you need professional cleaning services in Boca Raton, FL, from a locally owned business. Sawgrass Cleaning Solutions is a commercial cleaning company that offers quite a variety of office cleaning services. We offer sanitization, disinfection, and even carpet cleaning service.
If you live in Boca Raton, FL, and need our services, you can get a free estimate by visiting our office. You can also request one by filling out the form on our website. Take your time also to read the reviews from our customers on their cleaning experience.
We have the best team of cleaners in Boca Raton and West Palm Beach. They put hard work into whatever they are doing, whether disinfection or carpet cleaning. You can call (561) 909-9988 to book an appointment today.